This post is also available in: French
Say hello to our next guest bloggers, the Alkaline Sisters. Julie and Yvonne write a beautiful blog, where they inspire readers to cook pH balancing dishes with their delicious recipes and vibrant photography. Ever since discovering the Alkaline Sisters, and later Kris Carr's Crazy Sexy Diet, I've been giving my meals a lot more thought in acidic and alkaline terms. Make sure to visit Julie and Yvonne's blog to find more wonderful, healing recipes and stunning food photography. Here is Julie: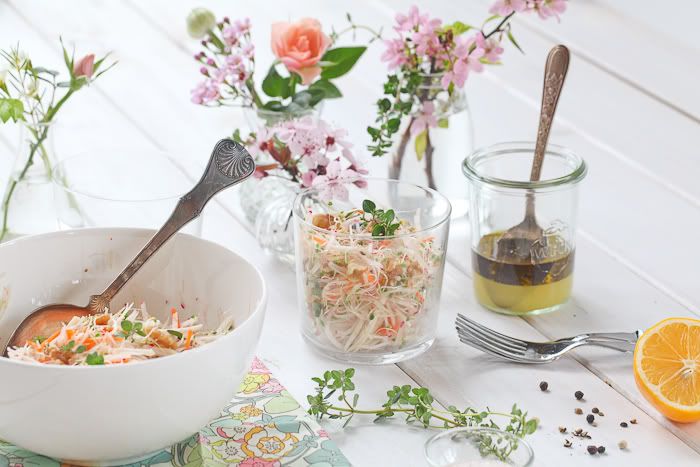 Sometimes it's kinda nice for a change to nibble on finely textured veggies cuz somehow they seem to have a different kind of flavour when they mingle in fine shreds.  That's what I've discovered from my extensive veggie preparations.  I end up experimenting with an array of textures, from finely diced, roughly chopped or shredded, to spiral noodles, thinly sliced and julienne cuts.  Each texture seems to give the veggies a unique taste sensation exposing more or less surface area of the veggies in a recipe.  Several flavours tend to marry more easily when finely cut.  Incorporating fine sprouts like broccoli, radish, garlic or alfalfa adds yet another character.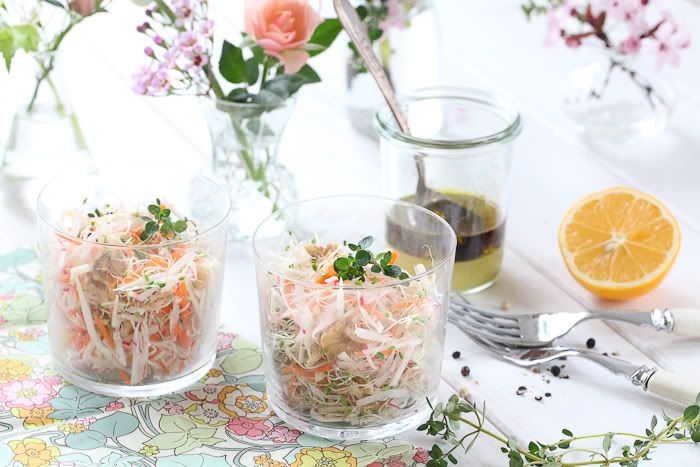 Experimenting with select veggies that will julienne nicely or pass over a mandolin like fennel & apple w/ parsnip or perhaps a combo of peppers, jicama and carrots can yield pleasing flavours. A special peeler like this is an easy way to julienne most any vegetable (with short or long strokes) except small radish sized veggies which work best on a mandolin.
You can enjoy this small dainty salad as a nice opening to a meal or alongside another main dish.  It's a yummy recipe that will help to increase your nutrient intake with living enzymes, vitamins, minerals, phytonutrients and antioxidants all the while alkalizing the body to balance your pH which in turn will help to minimize symptoms of disease.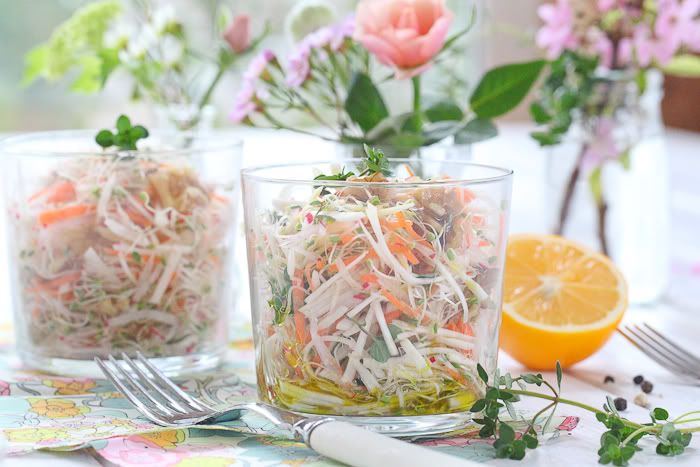 We've always been told to eat our veggies since we were kids, right? But now that we're adults…. we get to enjoy creative pretty salads to get our nutrients versus mushy peas and kaki coloured broccoli!  So off to the kitchen and dust off a few of those gadgets and make your veggie flavours mingle and dance!  You won't regret it!

Petite Slaw of Celeriac, Broccoli Sprouts, Meyer Lemon and Thyme
(Makes 4 petite salads or 2 grande salads)
1 tsp zest of meyer lemon
juice of 2 meyer lemons
1/4 cup cold pressed avocado oil
2 drops liquid stevia or 1 tsp maple syrup
pinch fine Himalayan salt
pinch of black pepper
1 medium celeriac root – peeled and julienne cut
1 cup broccoli sprouts
1 large carrot – peeled and julienne cut
4 radish – julienne cut on mandolin
5 stems fresh thyme – leaves removed
1/2 c raw walnuts – roughly chopped
In a small bowl combine lemon juice, avocado oil, stevia or syrup, salt and pepper.  Set aside.  In a medium bowl toss julienned celeriac, carrot, thyme leaves and sprouts to gently mingle the veggies together (you may have to carefully pull the sprouts apart and toss veggies by hand).  Chill until ready to serve.  Place in individual serving dishes and whisk the dressing once again and drizzle generously over veggies.  Garnish with a sprig of thyme and serve.
It's been a pleasure and an honour to be here sharing tasty healthy food with Golubka readers, thank you for stopping in.
-Julie
www.alkalinesisters.com