This post is also available in: French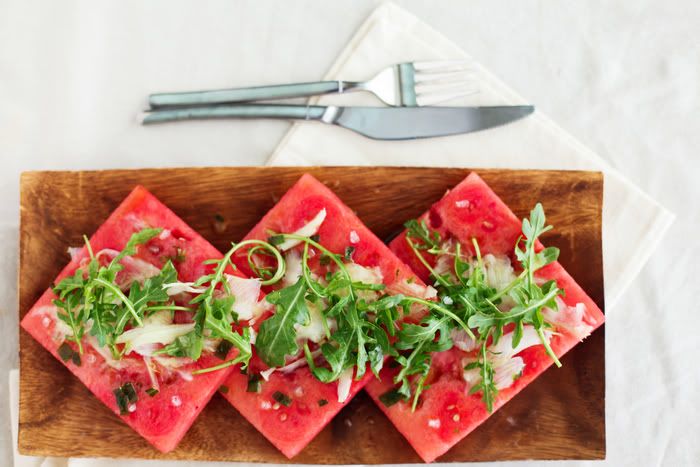 I've been cooking a whole lot lately, which tends to happen to me every summer. I don't know if it's the energy from the sun or all the inspiring warm weather produce, but the kitchen is my playground at the moment.
Paloma devouring a popsicle/ Shelled favas
Paloma turns four next weekend, and if you ask us parents how and when that happened, we'll shrug our shoulders. She was just learning to walk, as far as we remember.
There will be a splash party for which Paloma has already made an excessive amount of imaginary cupcakes. The only request for the cake has been to make sure that it's pink. And pink it will be.
Today I want to share a recipe for a salad that is as delicious as it is simple. My friend Ira recently served it at dinner and we were amazed by its vibrant flavours.
Slices of a juicy summer watermelon get soaked in sangria, topped with shaved fennel and baby arugula, and then sprinkled with a sweet dressing. Easy and beautiful.
    Our beach at sunset / Black raspberries
You can use store bought sangria, of course, but now is the perfect time for a pitcher of the fruitiest homemade sangria. No pressure.
I like to make it with absurd amounts of fruit and berries of all kinds, lots of citrus slices too. The key is to let it sit overnight so the fruit absorbs the wine and vice versa.
Gazpacho for dinner / Another sunset
Easter egg radishes / Grilled peaches with creme
There have also been endless pots of gazpacho, batches of sorbets and popsicles, and peach grilling at friend Lena's beautiful jungle-like backyard. Hope your summer is sunny.
Tipsy Watermelon Salad
1 medium watermelon – well chilled, rind removed, and cut into thick, uniform shapes
sangria
1 fennel bulb – shaved
baby arugula leaves
Dressing
1/2 cup olive oil
1 tablespoon honey
1 teaspoon apple cider vinegar
In a dish, generously drizzle watermelon with sangria. Let marinate in the refrigerator for about an hour. To serve, top with shaved fennel and arugula. Mix all the dressing ingredients and drizzle on top of the salad. Finish off with a sprinkle of coarse sea salt.