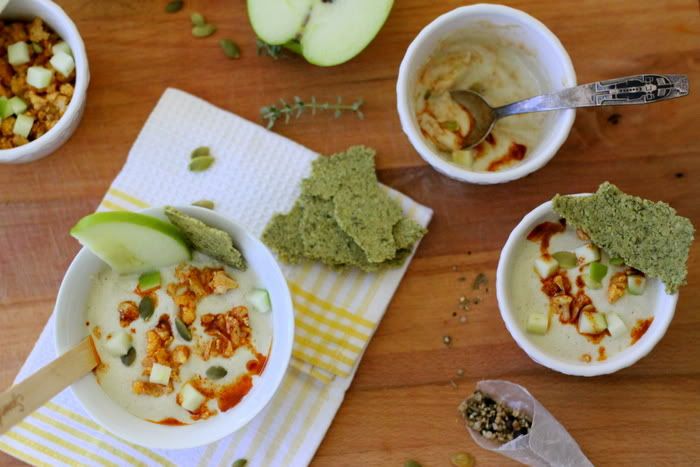 Some foods have a distinct seasonal disposition. Ice cream for summertime, apple pie in the autumn, hot soup during winter, and roasted artichoke in the spring. Well, I have a feeling that this soup surpasses seasons. It's both light and hearty and is just as delicious chilled as it is warm.
I often daydream about food and make up different recipes while doing things unrelated to cooking. Well recently, in the middle of a daydream, I got an idea for making a soup that would have nut milk for its base. I imagined a bowl full of soup that is "blond" and creamy, and became excited about the possibilities of the milk's earthy flavour.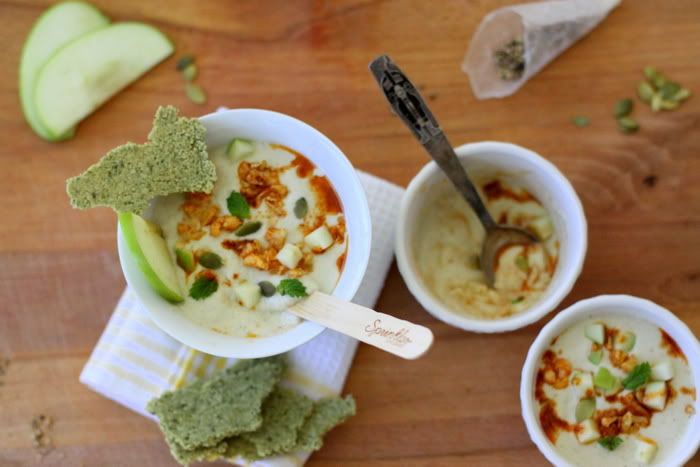 It took quite a bit of experimentation until I was able to minimize the ingredients to two simple companions to almond milk – apple and fennel. Combined with the milk's nutty taste, the two bring a sweet and fresh presence to the bowl. The spice of chili and coriander deepens the flavour and ties the whole thing together with a slight kick. The use of nut milk instead of whole nuts makes for a much lighter soup.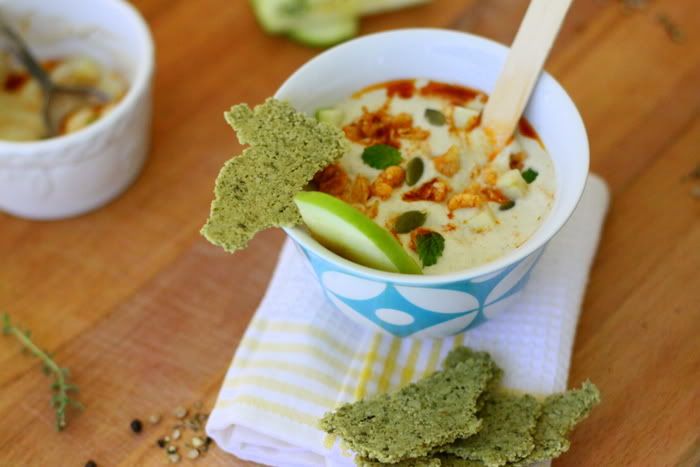 Pumpkinseed cheese is a fairly recent discovery. The first time I made it, I could not believe what a wonderful result I got with so few ingredients. It's a bit like a cracker. A cheesy, healthy, and delicious one. I've made it very frequently over the past couple of months. It's simple, and works as a wonderful snack or part of a meal. I like to serve the soup with this "cheese," but it's very possible to pair it with any crackers of your choice.
Almond Milk
1 cup almonds – soaked overnight
3 cups water
3 dates
In a high speed blender, thoroughly combine all the ingredients.
Strain through a nut bag or double lined cheesecloth, carefully squeezing all the liquid out. Use 2 cups of the milk for soup, and if you have some left over, enjoy it with your breakfast or cookies. You can make these cookies out of the left-over almond pulp.
Creamy Apple-Anise Soup
2 cups almond milk
1 fennel bulb – roughly chopped
1 large apple (any kind) – cored and roughly chopped, reserve 1/4 for garnish
1 handful fresh cilantro leaves
1/2 small chili pepper – seeded
1/2 teaspoon ground coriander
freshly ground black pepper and salt to taste
Garnish
the reserved 1/4 of apple – cut in small cubes
pumpkin seeds – optionally soaked and dehydrated for extra crunch
drizzle of chili olive oil (optional) – olive oil mixed with chili powder
fresh mint or cilantro leaves
In a high speed blender, combine all the ingredients until smooth. Adjust the salt and spices. Garnish with the cubed apple, pumpkin seeds, and a drizzle of chili olive oil. Before serving, heat up in the dehydrator or serve chilled.
Pumpkinseed Cheese
1 cup pumpkin seeds – soaked overnight
1/4 cup purified water
1/8 cup lemon or lime juice
1 tablespoon nutritional yeast
1/4 teaspoon sea salt
In a food processor, blend all the ingredients until smooth. Thinly spread onto Teflex sheets and dehydrate at 115F for 6 hours. Flip and remove the Teflex. Break into pieces and dehydrate for another 2 hours.