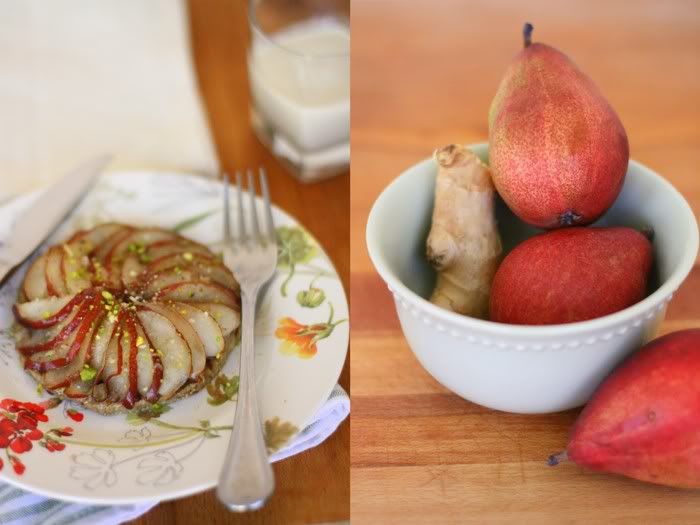 Today, we have a hearty recipe for you. We've been enjoying these cakes all throughout the winter. They work equally well as dessert, breakfast, or sometimes even a whole meal. The warm, satisfying flavours have kept us feeling cozy throughout the winter and we continue coming back to these cakes all the way into spring.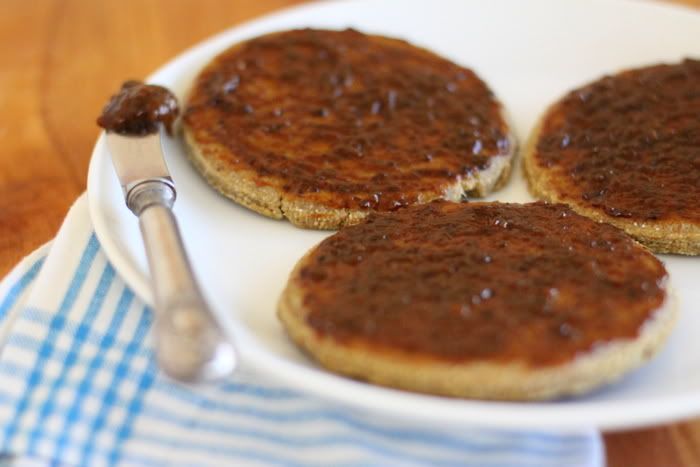 Oh spring, we are so excited to welcome it. I know that it hasn't exactly stepped in yet up North, but it's coming! Here in Florida it's warm, very much so. We've been frequenting the beach, and although the water is still a bit too chilly for my liking, Paloma runs right in. A brave soul.
Back to the food, my husband fell in love with the cakes and always asks about a new batch while still in the process of finishing a current one. In fact, the whole family loves these round treats, everyone except Paloma. I'm beginning to think that it's the ginger that bothers her, although she likes all other spices. I'm sure one day she'll come around.
Lately, we've been getting lots of questions regarding substitutes for sprouted oat flour. We use it in many recipes and it tastes heavenly, but the allergy to oats is a concern to many. I've been trying to come up with a tasty alternative and finally decided to try sprouted quinoa, the star of vegan and gluten free culinary worlds.
The dough with quinoa and buckwheat did taste a little stronger, a bit more sprouted. But when the flavours of fresh ginger, agave soaked pears, vanilla, and lemon combine and integrate into the crust, the result is just lovely.
And if you want to add a touch of decadence, top the cakes with a perfectly smooth and indulgent macadamia whipped cream and enjoy.
Pear Ginger Cakes
Multigrain Crust
1 cup each sprouted quinoa, buckwheat, and oat flours
2/3 cup maple syrup powder
1/2 teaspoon ground nutmeg
1/2 cup cocoa butter – gently melted on a double boiler
1/2 cup date paste
2-3 tablespoons vanilla extract
1 tablespoon grated fresh ginger root
less than 1/4 cup purified water
We used the same technique to make the quinoa and buckwheat flours as we did for our oat flour here.
In a large bowl, sift together the flours, maple syrup powder, and nutmeg. Add the cocoa butter and mix thoroughly. In a separate bowl, mix together the rest of the ingredients. Add the liquid to the flour mixture and combine well.
Place the dough on a Teflex sheet, cover with parchment paper, and using a rolling pin, roll evenly to about 1/4″ thickness. Cut out round-shaped cakes about 4 1/2″ in diameter, reform the remaining dough and cut out again until all is used. Dehydrate for 2-3 hours at 115F. Flip and continue to dehydrate on the mesh screen only for another 6 to 8 hours.
Sweet Pear Topping
3-4 Red Bartlet or any other type of pears – thinly sliced
raw agave syrup or other preferred sweetener – enough to cover the pear slices
seeds of 1 vanilla been
1 tablespoon grated fresh ginger root
juice of 1/2 lemon, OR to taste
Combine your sweetener with the seeds of vanilla been, ginger and lemon juice. Pour over pear slices and let soak for an hour.
Assembly
Spread any raw preserve or fruit puree on the cakes. We used our prune-apricot puree. Arrange the pear slices in a spiral on top. Dehydrate for 8 hours or overnight. The cakes hold very well when refrigerated in an air tight container.
Macadamia Whipped Cream
(optional and adapted from The Raw 50)
1 cup macadamia nuts – soaked for 8-10 hours and dehydrated at 115F for 12 hours
1/2 cup water of fresh young Thai coconut
5 pitted dates – soaked for 2 hours and drained
1 tablespoon coconut butter
Blend all the ingredients in a high speed blender until smooth. Chill in the refrigerator for at least an hour before serving.